Research article
Open Access
Open Peer Review
This article has Open Peer Review reports available.
Systematic review of clinical practice guidelines recommendations about primary cardiovascular disease prevention for older adults
BMC Family Practice
2015
16:104
Received: 10 February 2015
Accepted: 22 July 2015
Published: 20 August 2015
Abstract
Background
Clinical care for older adults is complex and represents a growing problem. They are a diverse patient group with varying needs, frequent presence of multiple comorbidities, and are more susceptible to treatment harms. Thus Clinical Practice Guidelines (CPGs) need to carefully consider older adults in order to guide clinicians. We reviewed CPG recommendations for primary cardiovascular disease (CVD) prevention and examined the extent to which CPGs address issues important for older people identified in the literature.
Methods
We searched: 1) two systematic reviews on CPGs for CVD prevention and 2) the National CPG Clearinghouse, G-I-N International CPG Library and Trip databases for CPGs for CVD prevention, hypertension and cholesterol. We conducted our search between April and December 2013. We excluded CPGs for diabetes, chronic kidney disease, HIV, lifestyle, general screening/prevention, and pregnant or pediatric populations. Three authors independently screened citations for inclusion and extracted data. The primary outcomes were presence and extent of recommendations for older people including discussion of: (1) available evidence, (2) barriers to implementation of the CPG, and (3) tailoring management for this group.
Results
We found 47 eligible CPGs. There was no mention of older people in 4 (9 %) of the CPGs. Benefits were discussed more frequently than harms. Twenty-three CPGs (49 %) discussed evidence about potential benefits and 18 (38 %) discussed potential harms of CVD prevention in older people. Most CPGs addressed one or more barriers to implementation, often as a short statement. Although 27 CPGs (58 %) mentioned tailoring management to the older patient context (e.g. comorbidities), concrete guidance was rare.
Conclusion
Although most CVD prevention CPGs mention the older population to some extent, the information provided is vague and very limited. Older adults represent a growing proportion of the population. Guideline developers must ensure they consider older patients' needs and provide appropriate advice to clinicians in order to support high quality care for this group. CPGs should at a minimum address the available evidence about CVD prevention for older people, and acknowledge the importance of patient involvement.
Keywords
AgingCardiovascular diseasesGuidelinesShared decision making
Methods
Data sources
First, we searched two systematic reviews on CPGs for CVD prevention [23, 38] for CPGs discussing a combined, overall, global, total or absolute risk approach (from here on referred to as AR approach) and looked for updated version of these CPGs. Second, we performed our own systematic review to search for CPGs published after May 2009, the time-frame used in the previous studies, by searching the following three CPG-specific databases: the National CPG Clearinghouse (http://www.guideline.gov), G-I-N International CPG Library (http://www.g-i-n.net) and Trip database (https://www.tripdatabase.com). These databases are publicly available on the Internet. We conducted our search between April and December 2013.
Inclusion/exclusion criteria
We included published CPGs on the assessment and/or management of CVD risk or two important risk factors for CVD: hypertension and high cholesterol. We only considered CPGs that mentioned an AR approach and specifically aimed to prevent a first CVD event (primary prevention). We excluded CPGs for diabetes, chronic kidney disease, HIV, lifestyle, general screening/prevention, pregnant or pediatric populations. We restricted the search to English language CPGs. Where more than one version of the same CPG was found we included only the most recent version.
Search strategies
An information specialist was consulted to design the search strategy. The Medline search strategy consisted of two categories of subject headings (MESH) and title words (intersected by the Boolean term "AND") covering (1) CVD, hypertension and dyslipidemia: (cardiovascular disease, heart disease, vascular disease, cardiac, coronary, ischemic, cardiovascular, cerebrovascular disorders, stroke, peripheral vascular diseases, renovascular or stroke, dyslipidemia, cholesterol, lipid, hypertension, blood pressure); and (2) clinical practice guidelines (practice guidelines, guidelines, clinical or practice and guidelines). We limited our search to English language articles. The Medline search syntax served as a basis for all search strategies. The full search strategy is available on request from the authors. We were also provided with CPGs through informal communication.
Two reviewers (JJ and SM) independently assessed all 1) titles and 2) abstracts/full text CPGs for potential eligibility, with discrepancies resolved by consensus if needed after discussion with all authors (see Fig.
1
). For CPGs extracted from the two existing reviews, we combined step 1 and 2.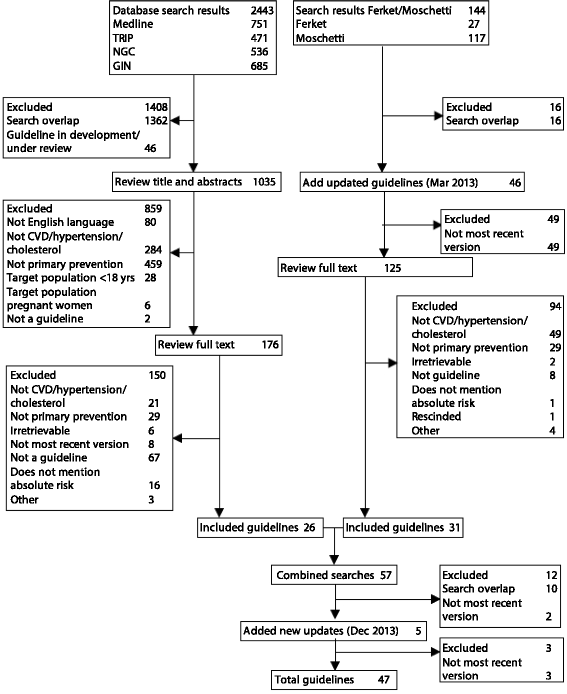 Outcomes
When no specific age cut-off for older adults was indicated in the CPG, we looked for words that signified older age (e.g., senior, frail, elderly).
The primary outcome
was to identify the extent to which recommendations for CVD assessment/management in older adults (with or without comorbidities ) were given, more specifically any mention of: (1) available evidence for older people, (2) barriers to implementation of the CPG for older people, and (3) tailoring treatment to older people context and preferences. These criteria were selected from literature on the applicability of CPGs and patient centered care for older people [
1
,
4
,
13
,
36
,
37
]. See Table
1
for a more detailed description of these criteria.We only included statements that explicitly referred to older patients, which means that general statements for example about the importance of patient involvement are not reported. Data were collected, summarized, and tabulated in an Excel spread sheet.
Table 1
Overview of criteria for CPG recommendations for older people*
Inclusion of information related to:

1. Available evidence primary CVD prevention for older people

2. Barriers to implementation of the CPG for older people

3. Tailoring treatment to older people context and preferences

a. Evidence potential benefits/harms

a. Risk assessment complexity (e.g. measurement issues)

a. Patient preferences/values

b. Knowledge gaps

b. Risk management complexity (e.g. feasibility treatment targets)

b. Family preferences/values

c. Time needed to treat to benefit in context of life expectancy

c. Patient context (e.g. quality of life, life expectancy, comorbidities)

d. Meaningfulness outcomes for older people

d. Weighing benefits/harms

e. Treatment adherence issues

e. Therapy prioritization

f. Cognitive status

g. Social support/caregiver burden
Data collection and analysis
An initial data extraction plan was formulated (JJ), then discussed and revised with additional categories (JJ, CB, KM, SM), before all authors agreed on the approach. Three authors (JJ, SM, BN) independently extracted data from included CPGs and all CPGs were double coded to ensure accuracy and consistency. Any discrepancies were resolved by consensus to establish a single dataset. Data was collected on year of publication/update, principal disease, organization responsible for CPG development, country/region, whether it was an assessment CPG, a management CPG, or both. In line with the outcome measures, information was also extracted on any statements/recommendations that specifically addressed older people.
Results
Of 1035 screened abstracts and 301 full text CPGs, 47 CPGs were included: 23 on assessment/management of CVD risk in general, 13 on cholesterol, and 11 on hypertension. Additional file 1: Appendix A summarizes the selected CPGs, including risk model and condition: CVD, hypertension or cholesterol. The denominator used is all CPGs (n = 47) unless statements specifically relate to hypertension or cholesterol (medication); in those instances the denominators are 34 (23 CVD + 11 hypertension CPGs) and 36 (23 CVD + 13 cholesterol CPGs), respectively.
Discussion
Ninety-two percent of the included CPGs (43/47) referred to older adults to some extent, but the specific issues important in deciding about primary cardiovascular disease (CVD) prevention in older patients were mostly not adequately addressed. There was very limited discussion of frail older people and older people with comorbidities, a group for whom management is particularly challenging due to potential drug-drug and disease-drug interactions and competing health priorities [10, 43]. Only 55 % of the CPGs discussed available evidence for primary CVD prevention in older people and knowledge gaps. Potential benefits (in terms of morbidity, mortality and improved cognition) were discussed more extensively than harms (e.g. risk of hypotension with blood pressure medication), especially for hypertension medication and lifestyle recommendations. This is an important finding as even though older peoples' preferences to take medication for primary CVD prevention vary widely [15] they are relatively insensitive to its benefit but highly sensitive to its adverse effects [14, 44], suggesting that clinical CPGs need to place emphasis on both benefits and harms, especially for older people. More specific adverse effects were mentioned for cholesterol medication than blood pressure medication, for example only a few CPGs mentioned an increased risk of fall injuries as a result of blood pressure medication in older people [31]. Evidence for lifestyle management in older adults was brief in most CPGs, with generally no information provided on the specific benefits or effects on CVD or other outcomes for older people, the amount of lifestyle change needed to benefit, or differences between age groups. None of the guidelines made recommendations about when treatment could or should be stopped. Use of medication to prevent CVD in older people should be carefully monitored as the benefit-harm trade-off may change if people, for example, become increasingly frail [45].
Although the majority of the included CPGs provided one or more statements describing under which circumstances the CPG might be difficult to implement for older people, addressing issues such as lack of validation of the risk models, increased risk side of effects, and the need to adjust treatment targets, recommendations are varied and brief. Given the heterogeneity of the older population, and widely varying treatment (outcome) preferences, treatment decision making needs to be tailored to the specific circumstances of the individual older adult, taking into account their preferences and values [4, 20]. Half of the CPGs recommended clinicians to apply the CPGs with consideration of individual older patient context (e.g. comorbidities, life expectancy), but did not offer specific guidance. Even fewer CPGs mentioned the importance of older patient involvement in decision making and none of the CPGs mentioned the importance of family members/companions.
How our findings compare with other CPG assessments
Consistent with our findings, reviews of Canadian [37] and Australian [36] CPGs on prevalent chronic conditions in the older population found that although most CPGs refer to the older population to some extent, only a handful of them adequately address issues related to older patients, especially patients with comorbidities. One recent review of CPGs for patients with type-2 diabetes mellitus showed that the impact of multiple comorbidities, patient's socio personal contexts, and patients' personal values and preferences were only narrowly addressed in most CPGs [46]. Although this review did not focus on older people specifically, it concurs with the limited attention to older patient context and patient involvement the CPGs included in the current study, and suggests it is an important issue with CPGs more broadly.
Limitations and strengths
The main limitation of our work is that we only looked at statements specifically referring to older people and it therefore does not allow for a comparison between recommendations for older versus younger adults. It also means that we did not include statements related to comorbidities or frailty that may have been applicable to older people, if they did not specifically address this group. However, we know from previous studies that CPGs rarely consider patients with comorbidities [36, 37, 46] so it is unlikely that including more general statements would have changed our results. Moreover, from the viewpoint of a clinician having to decide about the management of an older patient, guidelines would need to be clearly signposted as relevant for older people rather than requiring extraction from general text about management. Since our main objective was to examine the extent to which CVD CPGs address older adults, we did not carry out a formal quality evaluation of the CPGs. We limited our eligibility criteria to CPGs published in English.
Finally, we did not include the recently published JBS3 [47], NICE CG181 [48] and NHLBI JNC8 CPG [49] in the review as these were published after our last search date (31 December 2013). However, these CPGs appear to have a similar pattern to our main findings, with the exception of NICE CG181. In both the JBS3 and JNC8 guidelines, the discussion of older people is mainly limited to a recommendation to adjust treatment targets and/or thresholds The JBS8 has added an adjusted treatment threshold for people aged ≥80 years (BP <150/90 mm Hg, or <150/85 mm Hg if ambulatory or home BP monitoring is used). JNC8 now recommends an adjusted treatment threshold and target for people aged ≥60 years (SBP of 150 mmHg or DBP of 90 mmHg). Interestingly, the section on hypertension in older people in JNC7 guideline was removed in the JNC8 update. The updated NICE CG181 guideline provides much more extensive discussion of CVD risk management in older people than the previous version (CG67) [39]. In CG67 the main recommendation for older people had been to use clinical judgement to assess risk in people aged 75 or older but that this group could be considered at increased risk of CVD and is likely to benefit from statin treatment. In CG181 the major change is to explicitly recommend using the QRISK2 risk assessment, which has been validated in people up to, and including age 84 years. People aged 85 or older are considered to be at increased risk of CVD because of age alone and the CPG recommends considering statin treatment in this group. However, detail is added to make it explicit that there is limited evidence in older age groups, that the benefit may only be in reduced non-fatal MI and that consideration of risk and benefits and factors such as polypharmacy, comorbidity, frailty and life expectancy and informed patient preference are particularly important. It is also pointed out that there is a need for more research on the effectiveness of statin therapy in older people. The main strengths of our work includes the systematic approach, the use of a literature based data extraction method and the rigor of our analysis by employing double coding of CPG selection and data extraction.
Implications for CPG development and research
Clinical practice guidelines set out a template for best practice for patient management to guide and support clinicians in their care of patients. It is clear from our review that even though clinicians report wanting additional advice about caring for older patients, the current CPGs fail to provide adequate guidance in the vast majority of cases. There is a clear need for randomized trials on primary CVD prevention in older people (with inclusion of the frail older person with comorbidities) measuring outcomes that are meaningful to older people, to enable evidence based decision making for this group. At the same time, our results show that the majority of the CPGs do not even report the evidence that is available [27, 28, 31–34], rendering it almost impossible for older patients and their clinicians to make an informed decision about whether and how to manage CVD risk. CPG developers should think about ways to present available evidence for older people in the CPGs or at least to highlight the uncertainty around the evidence for this group. CPGs should be structured so that they may be easily adapted to older people with comorbidities, clearly present potential benefits and harms to allow for comparison, and are conducive to shared decision making. This may require the use of new technology [50]. Existing guidance on risk communication [51] (although mainly limited to younger people), use of prognostic indices [12] and health outcome prioritization tools [13, 15] for decision making in older people could help inform this process.
Conclusion
This study shows that only few primary CVD prevention CPGs adequately address important issues common in the care of older people. Given the changing demographics and aging population worldwide, this is of major significance. Future CPGs should provide more detailed evidence and guidance on the management of older people with multiple comorbidities and frailty, to ensure that discussions about the risk and benefits (and uncertainties) of different management options can take place and clinician and patients can make a shared decision that is tailored to the individual patient's circumstances and preferences. CPGs must be designed to provide the best possible advice and support to clinicians for the care of their patients. Care of older patients will not improve until important aspects of their care are addressed by health care providers. Achieving high quality guidelines to support clinicians is an essential part of this process.
Abbreviations
AR:

Absolute risk
CPG:

Clinical Practice Guideline
CVD:

Cardiovascular Disease
DBP:

Diastolic blood pressure
SBP:

Systolic blood pressure
Declarations
Acknowledgements
The authors would like to thank Ruth Mitchell for her help with the literature search. The study was funded by a Program Grant awarded to the Screening and Test Evaluation Program (STEP; 633003) from the National Health and Medical Research Council (NHMRC). CB was supported by an Australian Postgraduate Award. JJ (1037028) and KM (1029241) were supported by NHMRC fellowships. Jenny Doust was supported by the NHMRC project grant 511217. The funders had no role in the design or conduct of the study; in the collection, analysis, and interpretation of the data; or in the preparation or approval of the manuscript.
Open Access This article is distributed under the terms of the Creative Commons Attribution 4.0 International License (http://creativecommons.org/licenses/by/4.0/), which permits unrestricted use, distribution, and reproduction in any medium, provided you give appropriate credit to the original author(s) and the source, provide a link to the Creative Commons license, and indicate if changes were made. The Creative Commons Public Domain Dedication waiver (http://creativecommons.org/publicdomain/zero/1.0/) applies to the data made available in this article, unless otherwise stated.
Authors' Affiliations
(1)
Screening & Test Evaluation Program (STEP), Sydney School of Public Health, The University of Sydney, Sydney, Australia
(2)
Centre for Medical Psychology and Evidence-based Decision-making (CeMPED), The University of Sydney, Sydney, Australia
(3)
Faculty of Health Sciences and Medicine, Bond University, Robina, Australia
(4)
Academic Medical Centre, Department of Internal Medicine, University of Amsterdam, Amsterdam, Netherlands
(5)
Department of Geriatrics, Gelre Hospitaal, Apeldoorn, Netherlands